Posts for tag: dentures
By Advanced Dentistry
January 22, 2019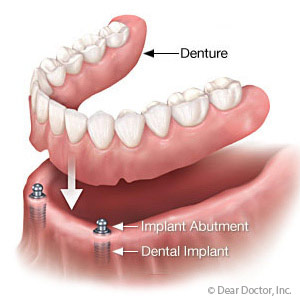 People who've lost all their teeth (a condition known as edentulism) face a decision on how to restore their lost function and appearance. And there are a number of options to consider.
A fixed bridge supported by dental implants, for example, is a good choice for patients who still have sufficient bone structure in their jaw. It's not a good choice, however, for those with the opposite situation — who've experienced significant bone loss which has also affected their facial structure. For them, there's a better alternative that also uses implants for support — the overdenture.
An overdenture is similar to a traditional denture, in that it's made of life-like crowns permanently set in denture plastic, and may either partially or fully cover the roof of the mouth. The main difference, though, is that unlike traditional dentures which rest for support on the gum ridges, an overdenture is supported by strategically placed implants that the denture fits over and connects to — hence the name "overdenture."
There are a number of advantages for an overdenture, especially for patients with bone loss. A removable, implant-supported denture can be designed to replace lost tissues that have altered facial appearance — to "fill in" the face and restore aesthetic harmony. Patients who've previously worn dentures will also often find their speech better improved than with fixed bridgework.
Because it's removable, an overdenture and the underlying gums are easier to clean, which helps inhibit disease and lessen further bone loss. It also allows you to properly care for the denture, which can extend its longevity and reduce future potential maintenance and replacement costs.
If you would like to consider removable overdentures as an option, you should begin first with a thorough oral exam that includes evaluating the status of your bone, jaw and facial structure. From there we can advise you if overdentures are the best choice for you.
If you would like more information on overdentures and other restoration options, please contact us or schedule an appointment for a consultation. You can also learn more about this topic by reading the Dear Doctor magazine article "Fixed vs. Removable."
By Advanced Dentistry
May 29, 2018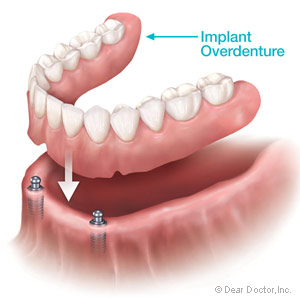 Some patients who wear dentures face a kind of Catch-22: their denture fit may have loosened and become uncomfortable over time due to continued bone loss, yet the same bone loss prevents them from obtaining dental implants, a superior tooth replacement system to dentures.
But there may be a solution to this dilemma that combines the stability of implants with a removable denture. A set of smaller diameter implants — "mini-implants" — can support a removable denture with less bone than required by a conventional implant.
Like all living tissue, bone has a life cycle: after a period of growth, the older bone dissolves and is absorbed by the body, a process known as resorption. The forces generated when we bite or chew are transmitted by the teeth to the jawbones, which stimulates new bone formation to replace the resorbed bone. When the teeth are lost, however, the stimulation is lost too; without it, resorption will eventually outpace bone growth and repair, causing the bone mass to shrink.
Removable dentures also can't supply the missing stimulation — bone loss continues as if the dentures weren't there; and due to the compressive forces of a denture, bone loss accelerates. As the jawbone structure used to originally form the denture's fit eventually shrinks, the denture becomes loose and difficult to wear. It's possible to adjust to the new jaw contours by relining the dentures with new material or creating a new set of dentures that match the current bone mass. Without adequate bone, fixed crowns or bridges anchored by conventional implants may also be out of the picture.
On the other hand, mini-implants with their smaller diameter need less bone than the traditional implant. A few strategically placed within the jaw are strong and stable enough to support a removable denture. One other advantage: these mini-implants can be installed in one visit with local anesthesia and usually without the need for incisions or stitches.
If you would like more information on dentures supported by mini-implants, please contact us or schedule an appointment for a consultation. You can also learn more about this topic by reading the Dear Doctor magazine article "The 'Great' Mini-Implant."